All staffs are called as human "TREASURES."
My management policy is not to make the company bigger but is to support the "treasures" to improve themselves, enjoy and get satisfied with their jobs.
MISSION
I offer the opportunity and environment for self-fulfillment and personal growth, regardless of age, gender, personal/educational background, and nationality.
MANAGEMENT GUIDELINE
My role is to support individual growth of the "treasures" without imposing my personal sense of value on them, and I will make further efforts to have all "treasures" understood my management philosophy/values.
MEANING OF COMPANY EXISTENCE
Employment. That is to offer a place for pleasure through work.
Challenge. That is to offer an opportunity for self-growth/realization.
Firm Foundation. That is to build a system to preserve employment without any deficit.
BE SINCERE TO THE CUSTOMERS,
CONTRIBUE TO THE SOCIETY,
TOGETHER WITH STAFFS(FAMILY)

Our business consists of our customers, society and supportive staffs.

First, we are always sincere and honest to the customers and making a lot of efforts to improve/develop our service for them.

Second, we would like to demonstrate significance of our existence to the society and promise contributions to it through various actions.

Finally, we all staffs are members of one family.

We believe that our happiness leads to our development.
ACTION PRINCIPLES
Five Action Principles
Take all actions as we said.
Be responsible for our words and actions to the end.
Do our best always, without compromising.
Take initiative and act spontaneously, without avoiding obligation and responsibility.
Keep evolving. THE TOUGH GET GOING!!
Our Speedy Conduct [VPAR]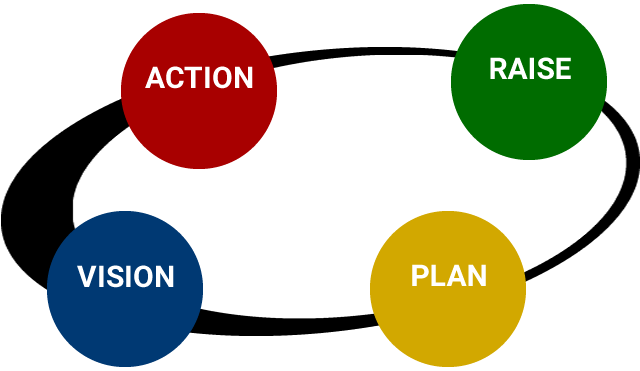 Vision

Set and clarify the aim, goal and time limit.

Plan

Prepare revised plans at all times.

Action

Act quickly and accurately according to the plan.

Raise

Feedback the result of action to the staffs and aim higher.